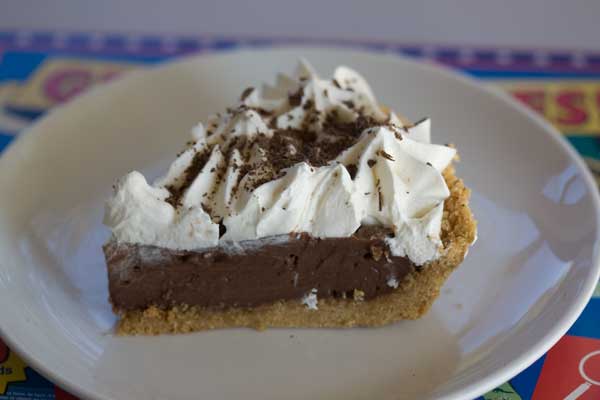 I'm obsessed. Several months ago I had a customer call me to order a chocolate cream pie. I assured her I could make a KILLER chocolate cream pie and I kept it to myself that I had never in my life made an anything cream pie. The good news is that I did a quick little internet search and I found a recipe that is both easy and good (it turns out chocolate cream pie isn't rocket science) and not only did my customer love it, she's ordered four more pies since I made her the first one. Just out of curiosity I made one for Big Daddy and me and yeah, that's a darn good pie!
AUNTIE HOOTS KILLER CHOCOLATE CREAM PIE
For crust
I just buy a graham cracker crust. You can make one if you're feeling it, but I just buy one already made.
For filling
2/3 cup sugar

1/4 cup cornstarch

1/2 teaspoon salt

4 large egg yolks

3 cups whole milk

5 oz fine-quality bittersweet chocolate (not unsweetened), melted (I have used Ghirahrdelli and Hersheys Special Dark chocolate chips with good results)

2 oz unsweetened chocolate, melted

2 tablespoons unsalted butter, softened

1 teaspoon vanilla
For topping
3/4 cup chilled heavy cream

1 tablespoon sugar
preparation
Make filling:
Whisk together sugar, cornstarch, salt, and yolks in a 3-quart heavy saucepan until combined well, then add milk in a stream, whisking. Bring to a boil over moderate heat, whisking, then reduce heat and simmer, whisking, 1 minute (filling will be thick).
Force filling through a fine-mesh sieve into a bowl, then whisk in chocolates, butter, and vanilla. Cover surface of filling with a buttered round of wax paper and cool completely, about 2 hours.
Spoon filling into crust and chill pie, loosely covered, at least 6 hours.
Make topping: (I know they sell whipped cream in a can, it's not the same. Make the whipped cream, trust me on this!)
Just before serving, beat cream with sugar in a bowl using an electric mixer until it just holds stiff peaks, then spoon on top of pie.